These instructions describe how to install Cloudera Desktop on a multi-node cluster. If you are interested in using a pseudo-distributed cluster, please see the for instructions.
Note:
All commands that need to be run as root have a # command prompt.

All commands that do not require root have a $ command prompt.
---
Cloudera Desktop ships with a default configuration that will work for pseudo-distributed clusters. If you are running on a real cluster, you'll need to make a few small changes to its configuration file.
Edit /usr/share/cloudera-desktop/conf/cloudera-desktop.ini in your favorite editor.
Full Listing of Configuration Options

In order to see a full listing of the available configuration options, you can run:

/usr/share/cloudera-desktop/bin/desktop config_help | less

This will outline the various sections and options in the configuration, as well as provide help and information on the default values.
---
If Cloudera Desktop is running on a different node than your Hadoop master nodes, you'll need to point it at the correct host names to talk to your cluster. To do so, simply change the namenode_host and jobtracker_host lines in the configuration file. The inline comments in the existing file will guide you.
| | |
| --- | --- |
| | Using multiple files to store your configuration |
| | Cloudera Desktop will load and merge all of the files located in the conf/ directory. Files that are alphabetically later will take precedence. |
---
Cloudera Desktop ships with a wide-open authentication mechanism by default — users may enter any username and password when logging in. To instead use PAM authentication, follow the instructions under the [[auth]] section of the file.
| | |
| --- | --- |
| | Password Security and PAM Authentication |
| | Cloudera Desktop does not ship with SSL enabled by default. If you choose to enable PAM authentication, be aware that HTTP is not an encrypted protocol and users' authentication details may be revealed over the network. |
---
Once your cluster is up and running with the plugins enabled, you can start Cloudera Desktop. On your Cloudera Desktop Server, run:
# /etc/init.d/cloudera-desktop start
Congratulations! Your Cloudera Desktop installation is now up and running!
---
After installation, you use Cloudera Desktop by simply navigating to http://myserver:8088/. You'll be greeted with a login screen: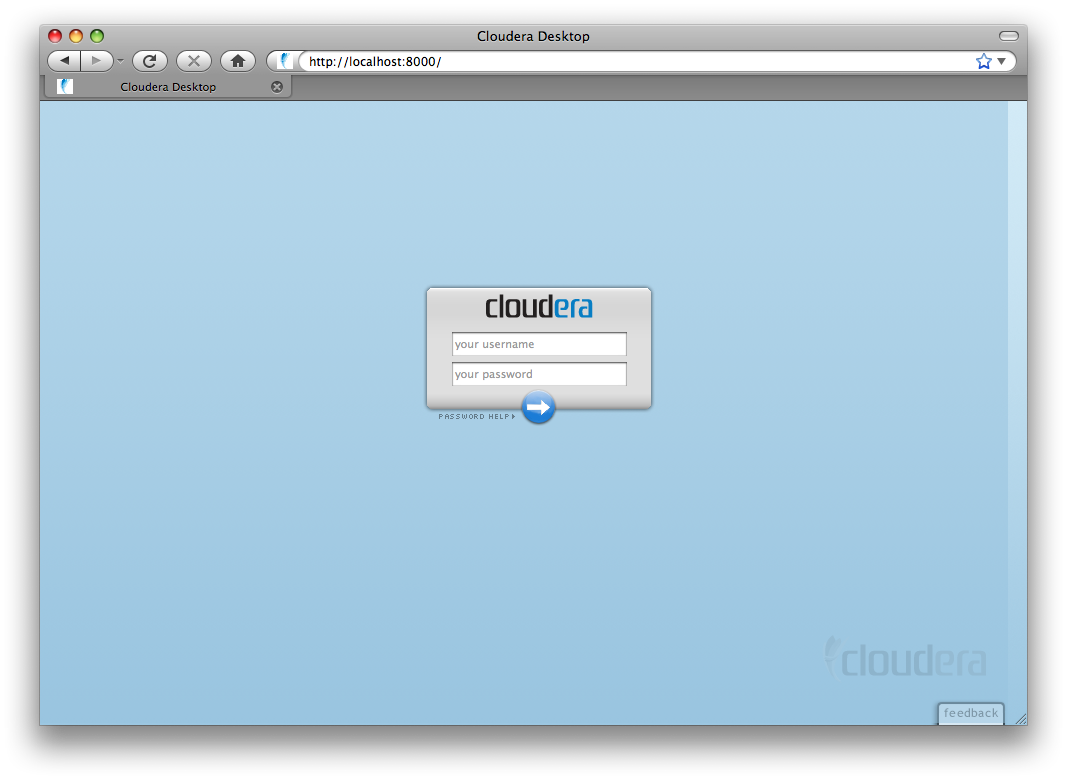 After login, you'll be greeted with a welcome screen.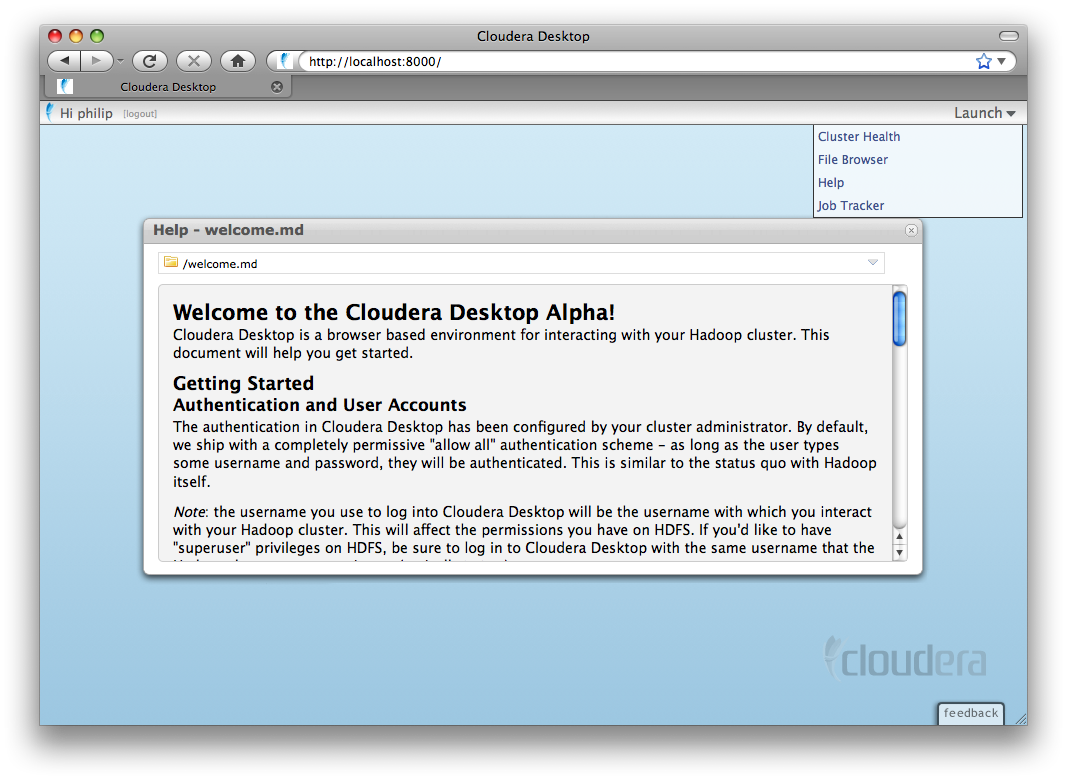 Launch applications on the top-right.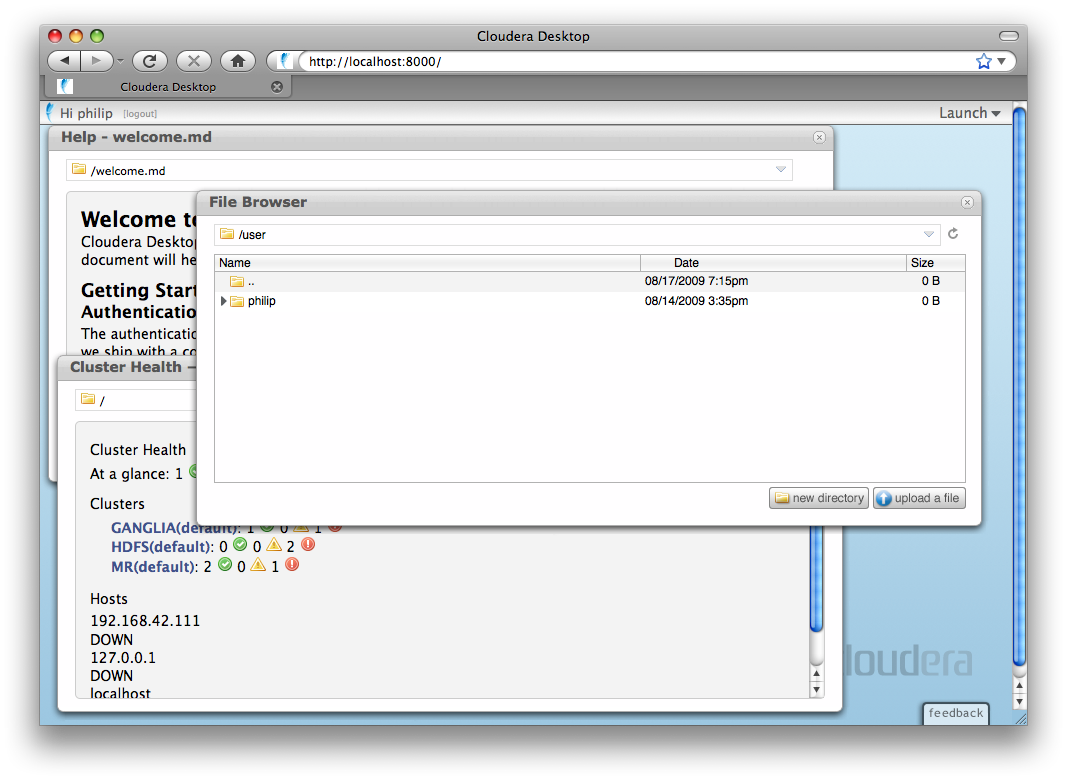 ---
If you find that something doesn't work, it'll often be helpful to include logs from your server. These are available at the /logs URL on Desktop's webserver (not part of the graphical Desktop UI). Please download the logs as a zip (or cut and paste the ones that look relevant) and send those with your bug reports.